Lillie Ammann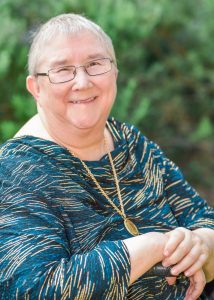 I write, edit, and consult as a freelancer for authors, publishers, and business and nonprofit organizations.
A graduate of Southwestern University with the degree Bachelor of Arts Magna Cum Laude, I owned and operated an interior landscape business for more than twenty years.
Although I never expected to make a living as a writer, I had always dreamed of writing someday. Suffering a stroke made me realize that someday had arrived. Although it took a couple of years to recover enough to write, I started writing as soon as I could.
I have published fiction, nonfiction, and Christian devotionals. Links to my books and those of my clients are available on my website and in information for clients. My favorite book is Jack Stories: Favorite Memories of Jack Jordan Ammann Jr, stories Jack loved to tell about himself, anecdotes from many family members and friends, and my own memories of my late husband.
I got started in editing in a roundabout way. I submitted my work to a publisher, then read some of the books the company published. I was disappointed in the poor editing of the books and contacted the publisher to express my concern about my own book being published the same way. The publisher explained they were a new company and didn't have a good system in place for the first books they published. However, they intended to edit and publish those ebooks again. They had been looking for an editor, and my manuscript was the cleanest she had seen. Would I be interested in editing for them? I jumped at the opportunity and edited a dozen books for them. I discovered I loved editing as much as or more than writing.
As a freelancer, I work with authors and publishers to prepare manuscripts for publication; write and edit business documents; and help families and individuals compile family histories and memoirs. I especially enjoy helping self-publishing authors navigate the publishing maze and like to think of myself as a book midwife.  I can guide the author through the entire process and connect them with people to provide every service needed: interior book layout, cover design, ISBNs and copyright registration, printing, and promotion (author's website, social media, press releases, and more). I'm as proud of the published book as the author is.
I am an avid reader and have written more than two thousand reviews on Goodreads.
I have been a Christian my entire life and am active in my church, All Saints Anglican Church in San Antonio, Texas. The Anglican Church is both catholic, adhering to the same doctrines universally believed by early Christians, and evangelical, with beliefs based solidly on Scripture.
We believe that Jesus Christ died on the cross for our sins. We are saved by faith and cannot earn our salvation through works. However, we also believe that a true Christian faith produces a godly life. Our worship is liturgical and focused on the Eucharist or Holy Communion. We use the Holy Bible and the 1928 Book of Common Prayer in our worship.
I had forty-five wonderful years with my husband—and hero, Jack. He was always my biggest cheerleader.
Although I deal with medical issues and live in a retirement community, I still enjoy working writing and editing.
Lillie Ammann
Information for Clients (including resume and list of my published books and those of my clients)
---
My Associate Jan McClintock
Although I am personally responsible for all aspects of client projects, another set of editorial eyes and another set of technical skills are always beneficial. I am blessed to have an associate, Janice F. McClintock, who has excellent skills—technical as well as writing and editing. She does most of the book design and ebook conversion. In addition, she usually completes one round of editing on book manuscripts and can handle just about anything that comes along if I am not available. I refer clients who need web design and maintenance services to her.
I met her at my church, and when she was looking for a change at the same time I was looking for help, it seemed that God was opening a door for both of us. I am delighted to have her help and enjoy working with her.

Jan began her editing career while working for the National Security Agency. As a computer systems operator and then as a linguist for the U.S. Navy, she worked as an analyst, report writer, and technical editor, as well as a desktop publisher. That work continued in several forms, adding telephone and email customer support; networking a small Mac-based business; writing, editing and publishing her own newsletter; and writing articles for several national genealogical publications and websites.
Jan owned her own successful business for many years, tutoring Apple Macintosh users in their own homes and businesses. She provided this service, unique in the San Antonio area, for those who needed patient, one-on-one guidance using their own computers and working at their own pace. This grew from her leadership in a local user group, where her knowledge and opinion were often sought and where she was recognized for her accomplishments and dedication.
That dedication is shown in the many volunteer activities Jan has been involved with over the years. She's given her time and heart to many worthwhile organizations and has been rewarded with lifelong friendships, tremendous satisfaction, and the knowledge that her actions have been pleasing to God.
Jan's web site: Night Owl Services